Deborah Isser is lead governance adviser in Africa and global lead for justice in the governance practice at the World Bank. An author of the World Development Report 2017: Governance and the Law, Isser joined the World Bank in 2011, where she has served as program manager of the Justice for the Poor program and governance focal point for fragile and conflict-affected states. Previously, Isser worked at USIP directing projects on legal pluralism and on land and conflict. She served as senior policy adviser at the Office of the High Representative in Bosnia and Herzegovina, and special adviser on peacekeeping at the U.S. Mission to the United Nations. She is the editor of Customary Justice and the Rule of Law in War-Torn Societies (2011), and author of several reports, articles and book chapters on law, justice and development. An adjunct faculty member at Georgetown and George Washington Law Schools, Isser holds degrees from Harvard Law School, the Fletcher School of Law and Diplomacy, and Columbia University.
---
Author's Books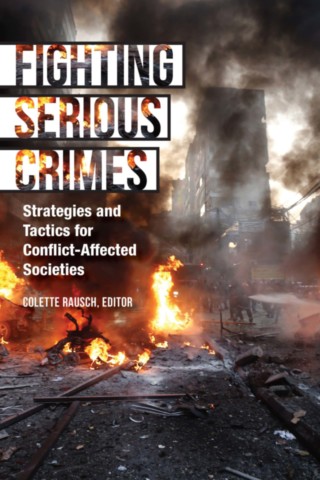 Strategies and Tactics for Conflict-Affected Societies
July 2017
October 2019
Now also available in French. French ebook will be available in December 2019.

Fighting Serious Crimes is a unique resource for anyone battling serious crimes in societies seeking to avoid conflict, to escape from violence, or to recover and rebuild. Packed with practical guidance, this volume includes real-world examples from more than twenty of today's conflict zones
July 2011
The major peacekeeping and stability operations of the last ten years have mostly taken place in countries that have pervasive customary justice systems, which pose significant challenges—and opportunities—for efforts to reestablish the rule of law. These systems are the primary, if not sole, means of dispute resolution for the majority of the population, but post-conflict practitioners and policymakers often focus primarily on constructing formal justice institutions in the Western image, as opposed to engaging existing traditional mechanisms. This book offers insight into how the rule of law community might make the leap beyond rhetorical recognition of customary justice toward a practical approach that incorporates the realities of its role in justice strategies.

Customary Justice and the Rule of Law in War-Torn Societies presents seven in-depth case studies that take a broad interdisciplinary approach to the study of the justice system. Moving beyond the narrow lens of legal analysis, the cases—Mozambique, Guatemala, East Timor, Afghanistan, Liberia, Iraq, Sudan—examine the larger historical, political, and social factors that shape the character and role of customary justice systems and their place in the overall justice sector. Written by resident experts, the case studies provide advice to rule of law practitioners on how to engage with customary law and suggest concrete ways policymakers can bridge the divide between formal and customary systems in both the short and long terms.

Instead of focusing exclusively on ideal legal forms of regulation and integration, this study suggests a holistic and flexible palette of reform options that offers realistic improvements in light of social realities and capacity limitations. The volume highlights how customary justice systems contribute to, or detract from, stability in the immediate post-conflict period and offers an analytical framework for assessing customary justice systems that can be applied in any country.

A Handbook for Policymakers and Practitioners
December 2006
This path-breaking volume fills a major gap in the literature on efforts to rebuild societies emerging from conflict. Drawing on firsthand experience in tackling organized and other destabilizing crime in Kosovo, Bosnia, Afghanistan, Iraq, and elsewhere, it distills that practical, hard-won knowledge into lessons and guidance for policymakers and practitioners who must face similar challenges. No similar work exists anywhere.

"Serious crimes" include any and all criminal acts that threaten post-conflict security, hinder political and economic reconstruction, or undermine public trust in nascent criminal justice institutions. From money laundering to murder, drug trafficking to terrorism, these crimes flourish where governments are impotent or officials are themselves complicit in illegal activities. Their impact on post-conflict societies of all types can be profoundly damaging--but they can be dealt with.

More than forty seasoned practitioners--judges and generals, prosecutors and human rights activists, scholars and government officials from across the world--participated in the discussions that generated the broad guidelines and more specific prescriptions presented in this handbook. Each of its chapters covers a different area of activity--initial assessment, reform of the legal framework, institutional reform, investigation and prosecution of serious crimes, and foreign assistance--providing not only general guidance but also real-life examples to illustrate the importance of adapting to local circumstances.

Easy to read and easy to use, with checklists and sidebars supplementing the succinct text, Combating Serious Crimes will be greatly appreciated by governments, international and regional organizations, and foreign assistance providers throughout the world. The police, judges, prosecutors, defense counsel and peacekeepers who address serious crimes on a day-to-day basis in post-conflict states will likewise find the book invaluable.