Deborah Isser is lead governance specialist in Africa at the World Bank. An author of the World Development Report 2017: Governance and the Law, Isser joined the World Bank in 2011, where she has served as program manager of the Justice for the Poor program and governance focal point for fragile and conflict-affected states. Previously, Isser worked at USIP directing projects on legal pluralism and on land and conflict. She served as senior policy adviser at the Office of the High Representative in Bosnia and Herzegovina, and special adviser on peacekeeping at the U.S. Mission to the United Nations. She is the editor of Customary Justice and the Rule of Law in War-Torn Societies (2011), and author of several reports, articles and book chapters on law, justice and development. An adjunct faculty member at Georgetown and George Washington Law Schools, Isser holds degrees from Harvard Law School, the Fletcher School of Law and Diplomacy, and Columbia University.
---
Author's Books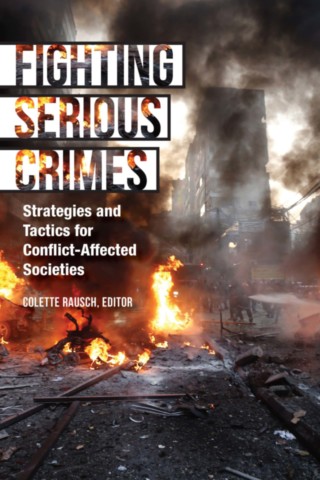 Strategies and Tactics for Conflict-Affected Societies
July 2017
Serious crimes—such as violent extremism, political violence, organized crime, and corruption—fuel violent conflict and thwart peacebuilding efforts. Fragile states with weak institutions and governance are unable to stem the tide of threats that serious crimes pose to peace. The consequences are all too evident across the globe: countries engulfed in political turmoil, conflicts that spiral into devastating wars, and tides of refugees fleeing instability and violence. Fighting Serious Crimes: Strategies and Tactics for Conflict-Affected Societies is an invaluable resource for anyone battling serious crimes in societies seeking to avoid conflict, to escape from violence, or to recover and rebuild. Packed with practical guidance, this volume includes real-world examples from more than twenty of today's conflict zones, including Libya, Yemen, Iraq, Afghanistan, Somalia, and Colombia. All the major challenges are covered, from initial assessment to legal and institutional reform, investigation to prosecution, criminal intelligence to witness protection, the use of international tribunals to the role of international military forces. The volume draws on the firsthand experience of dozens of practitioners, distilling what they have learned into clearly organized and highly readable text that is supplemented by checklists and sidebars that help readers conduct assessments, identify international and regional legal instruments (such as treaties), and complete a host of other key tasks.
July 2011
Customary Justice and the Rule of Law in War-Torn Societies
presents seven in-depth case studies that take a broad interdisciplinary approach to the study of the justice system. Moving beyond the narrow lens of legal analysis, the cases—Mozambique, Guatemala, East Timor, Afghanistan, Liberia, Iraq, Sudan—examine the larger historical, political, and social factors that shape the character and role of customary justice systems and their place in the overall justice sector.
A Handbook for Policymakers and Practitioners
December 2006
Presents broad guidelines and specific prescriptions for combating serious crime in societies emerging from conflict.