Major General Andrew Mackay (ret.), CEO and founder of Complexas Ltd. and APPLIform Ltd., has been involved in the stabilization of fragile and conflict afflicted states throughout his career. His expertise includes security sector reform, governance, rule of law, sustainable development, and fair elections. Since retiring from active military service in 2011, Mackay has worked predominantly in Africa on a wide variety of infrastructure and trade-enabling projects with governments, the World Bank, the African Development Bank, and multinational companies. Previously, he commanded British Forces in Afghanistan in 2007 and 2008, designing and delivering interagency programs to more fully understand and benefit alienated communities, offering them a stake in the future of their district, province, and the Afghan state. Joining the British Army in 1981, Mackay then served in Northern Ireland, Bosnia, Kosovo, Lebanon, Iraq, and Afghanistan. In Bosnia, he worked within the OSCE as the deputy director of the Joint Elections Operation Centre. In Kosovo, he served in the UN Mission Team as head of the Advisory Unit on Security. In Baghdad, he set up and commanded the Civilian Police Assistance Training Team, creating a budget of $1.5 billion to organize, train, equip, and mentor the nascent Ministry of Interior and more than 150,000 Iraqi police. Mackay is coauthor of Behavioural Conflict: Why Understanding People and Their Motivations Will Prove Decisive in Future Conflict (2012).
---
Author's Books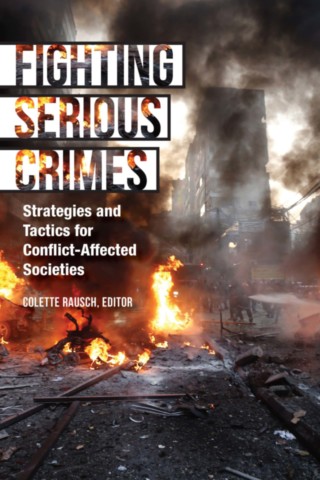 Strategies and Tactics for Conflict-Affected Societies
July 2017
Serious crimes—such as violent extremism, political violence, organized crime, and corruption—fuel violent conflict and thwart peacebuilding efforts. Fragile states with weak institutions and governance are unable to stem the tide of threats that serious crimes pose to peace. The consequences are all too evident across the globe: countries engulfed in political turmoil, conflicts that spiral into devastating wars, and tides of refugees fleeing instability and violence. Fighting Serious Crimes: Strategies and Tactics for Conflict-Affected Societies is an invaluable resource for anyone battling serious crimes in societies seeking to avoid conflict, to escape from violence, or to recover and rebuild. Packed with practical guidance, this volume includes real-world examples from more than twenty of today's conflict zones, including Libya, Yemen, Iraq, Afghanistan, Somalia, and Colombia. All the major challenges are covered, from initial assessment to legal and institutional reform, investigation to prosecution, criminal intelligence to witness protection, the use of international tribunals to the role of international military forces. The volume draws on the firsthand experience of dozens of practitioners, distilling what they have learned into clearly organized and highly readable text that is supplemented by checklists and sidebars that help readers conduct assessments, identify international and regional legal instruments (such as treaties), and complete a host of other key tasks.
A Handbook for Policymakers and Practitioners
December 2006
Presents broad guidelines and specific prescriptions for combating serious crime in societies emerging from conflict.