Adalbert Gross is a senior police officer of the state of North-Rhine-Westphalia in Germany. Before retiring from official duties in 2014 after forty-four years, he worked as lecturer and course director for the College of European Police and taught senior police management to serve in EU-Missions. Previously, Gross was deployed as UN Mission in Kosovo Police Deputy Commissioner Operations in Kosovo from 2001 to 2002— managing the introduction of the euro, civil unrest in various hot spots of the province, and the first arrests of high-profile Albanian criminals— and then served as interim police commissioner before returning to his home police force. From 1997 to 1998, Gross worked for the UN International Police Task Force in Sarajevo as head of Local Police Development Section, where he was responsible for the organization of local police structures under the Dayton Peace Accord. Gross holds an BA and an MA in law enforcement.
---
Author's Books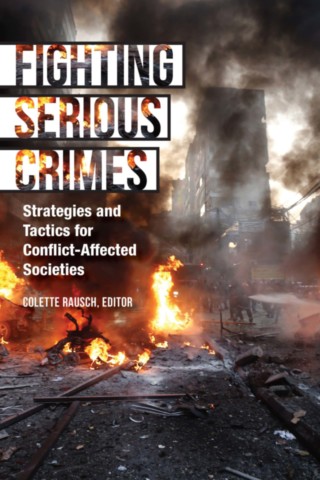 Strategies and Tactics for Conflict-Affected Societies
July 2017
Serious crimes—such as violent extremism, political violence, organized crime, and corruption—fuel violent conflict and thwart peacebuilding efforts. Fragile states with weak institutions and governance are unable to stem the tide of threats that serious crimes pose to peace. The consequences are all too evident across the globe: countries engulfed in political turmoil, conflicts that spiral into devastating wars, and tides of refugees fleeing instability and violence. Fighting Serious Crimes: Strategies and Tactics for Conflict-Affected Societies is an invaluable resource for anyone battling serious crimes in societies seeking to avoid conflict, to escape from violence, or to recover and rebuild. Packed with practical guidance, this volume includes real-world examples from more than twenty of today's conflict zones, including Libya, Yemen, Iraq, Afghanistan, Somalia, and Colombia. All the major challenges are covered, from initial assessment to legal and institutional reform, investigation to prosecution, criminal intelligence to witness protection, the use of international tribunals to the role of international military forces. The volume draws on the firsthand experience of dozens of practitioners, distilling what they have learned into clearly organized and highly readable text that is supplemented by checklists and sidebars that help readers conduct assessments, identify international and regional legal instruments (such as treaties), and complete a host of other key tasks.
A Handbook for Policymakers and Practitioners
December 2006
Presents broad guidelines and specific prescriptions for combating serious crime in societies emerging from conflict.