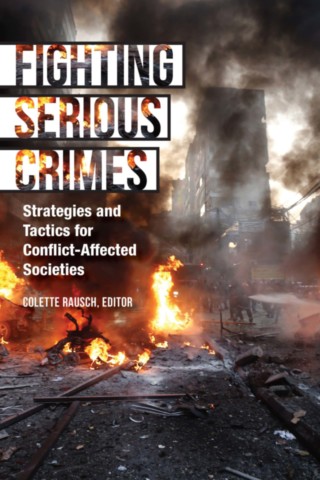 Fighting Serious Crimes - English
Strategies and Tactics for Conflict-Affected Societies
December 2019

Now available in French in print and in ebook.

Serious crimes—such as violent extremism, political violence, organized crime, and corruption—fuel violent conflict and thwart peacebuilding efforts. Fragile states with weak institutions and governance are unable to stem the tide of threats that serious crimes pose to peace. The consequences are all too evident across the globe: countries engulfed in political turmoil, conflicts that spiral into devastating wars, and tides of refugees fleeing instability and violence. Fighting Serious Crimes: Strategies and Tactics for Conflict-Affected Societies is an invaluable resource for anyone battling serious crimes in societies seeking to avoid conflict, to escape from violence, or to recover and rebuild. Packed with practical guidance, this volume includes real-world examples from more than twenty of today's conflict zones, including Libya, Yemen, Iraq, Afghanistan, Somalia, and Colombia. All the major challenges are covered, from initial assessment to legal and institutional reform, investigation to prosecution, criminal intelligence to witness protection, the use of international tribunals to the role of international military forces.
The volume draws on the firsthand experience of dozens of practitioners, distilling what they have learned into clearly organized and highly readable text that is supplemented by checklists and sidebars that help readers conduct assessments, identify international and regional legal instruments (such as treaties), and complete a host of other key tasks.
"This handbook offers policymakers and practitioners an invaluable combination of breadth of coverage, pragmatic focus, and wealth of experience. Brimming with experience and brilliantly edited, this volume is truly a useful tool."

—Cherif Bassiouni, Emeritus Distinguished Research Professor of Law and President Emeritus, International Human Rights Law Institute, DePaul University College of Law
"Fragile states with weak institutions often provide ample opportunity for criminal organizations, particularly those with international ties, to deepen and expand instability, violence, and lawlessness. This book is compelling reading for those interested in how efforts to establish the rule of law and develop justice institutions can counter such threats—and, more broadly, help nations to emerge both strong and free after critical moments of transition."

—William R. Brownfield, Assistant Secretary, Bureau of International Narcotics and Law Enforcement, US Department of State
"Fighting Serious Crimes provides us with reliable and analytical information covering many different facets of the problem of serious crimes. It also presents practical steps that we can take to build the rule of law in our countries."

—Surendra B. Shah, Additional Inspector General of the Nepal Police
"Organized crime networks pose a serious and growing threat to security. That is because those networks cooperate with hostile states and terrorist organizations. And those networks perpetuate state and institutional weakness that frustrates efforts to improve security and foster development. Fighting Serious Crimes offers exactly what we need: firsthand accounts of what has worked in the past, expert assessments of current threats, descriptions of new tools, and explanations of how to apply those tools effectively."

—General H. R. McMaster, author, Dereliction of Duty: Lyndon Johnson, Robert McNamara, the Joint Chiefs of Staff, and the Lies That Led to Vietnam