Nigel Quinney is president of The Editorial Group and a consultant to European and American think tanks, academic institutions, and multinational corporations. He has more than twenty years' experience as an editor, writer, and researcher in the fields of international relations and conflict resolution.
---
Author's Books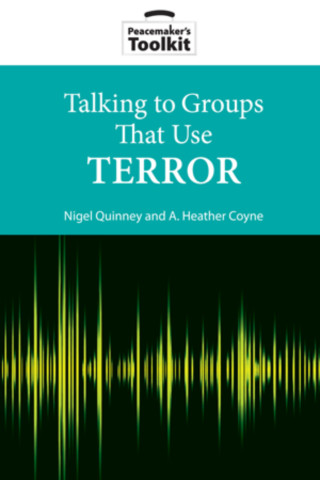 April 2011
This handbook poses and attempts to answer a series of basic, but complex, questions: Is there any advantage to the peace process in inviting or permitting the participation of proscribed armed groups (PAGs)? What kinds of PAGs are worth talking to and which are not? What form should the talks take and whom should they involve?

Each of the following six chapters covers a different step in the process of talking to groups that use terror:

* assess the potential for talks
* design a strategy for engagement
* open channels of communication
* foster commitment to the process
* facilitate negotiations
* and protect the process from the effects of violence

This handbook is part of the series the Peacemaker's Toolkit, which is being published by the United States Institute of Peace. For twenty-five years, the United States Institute of Peace has supported the work of mediators through research, training programs, workshops, and publications designed to discover and disseminate the keys to effective mediation.

The Institute—mandated by the U.S. Congress to help prevent, manage, and resolve international conflict through nonviolent means—has conceived of The Peacemaker's Toolkit as a way of combining its own accumulated expertise with that of other organizations active in the field of mediation. Most publications in the series are produced jointly by the Institute and a partner organization. All publications are carefully reviewed before publication by highly experienced mediators to ensure that the final product will be a useful and reliable resource for practitioners.
Wheeler-Dealers, Legal Eagles, Bullies, and Preachers
April 2010
This landmark study offers a rich and detailed portrait of the negotiating practices of American officials. It assesses the multiple influences—cultural, institutional, historical, and political—that shape how American policymakers and diplomats approach negotiations with foreign counterparts and highlights behavioral patterns that transcend the actions of individual negotiators and administrations.
Informed by discussions and interviews with more than fifty seasoned foreign and American negotiators, Richard H. Solomon and Nigel Quinney argue that four distinctive mind-sets have combined to shape U.S. negotiating practice: a businessperson's pragmatic quest for concrete results, a lawyer's attention to detail, a superpower's inclination to dictate terms, and a moralizer's sense of mission. The authors examine how Americans employ time, language, enticements, and pressure tactics at the negotiating table, and how they use (or neglect) the media, back channel communications, and hospitality outside the formal negotiating arena. They also explore the intense interagency rivalries and congressional second-guessing that limit U.S. negotiators' freedom to maneuver.
A chapter by the eminent historian Robert Schulzinger charts the evolving relationship between U.S. presidents and their negotiators, and the volume presents a set of eight remarkably candid foreign perspectives on particular aspects of American negotiating behavior. These chapters are written by a distinguished cast of ambassadors and foreign ministers, some from countries allied to the United States, others from rivals or adversaries and all with illuminating stories to tell.
In the concluding chapter, Solomon and Quinney propose a variety of measures to enhance America's negotiating capacities to deal with the new and emerging challenges to effective diplomacy in the 21st century.
Contributors:
Gilles Andreani • Chan Heng Chee • David Hannay • Faruk Logoglu • Lalit Mansingh • Yuri Nazarkin • Robert Schulzinger • Koji Watanabe • John Wood