A former senior research associate at USIP, C. Christine Fair is a senior political analyst with the RAND Corporation.
---
Author's Books
Militancy and Religious Education in Pakistan
March 2008
An ever-expanding body of literature continues to concentrate on the supposed role the madrassah, or religious school, plays in threatening international security. Even though none of the 9/11 attackers studied in such schools, they are alleged to be incubators of militants in Pakistan and the region. In The Madrassah Challenge, C. Christine Fair explores the true significance of the madrassah and its role in Pakistan's educational system.

In her rigorous analysis, Fair examines the number of these schools in Pakistan, their share of the educational market, the curriculum, socioeconomic background of the students, and the connections between the madrassah schools and militancy. Fair chronicles the Pakistan government's efforts to reform the madrassah system and the support in Pakistan for such reform. She offers important policy implications and suggestions for policy initiatives that might address some of the main concerns emanating from ostensible ties between education and security inside and outside Pakistan.

Drawing upon extensive interviews with madrassah officials, teachers, and students in Pakistan; discussions with international government and nongovernmental analysts; and numerous survey data and opinion polls, Fair provides a comprehensive, rich, and timely contribution that helps separate fact from fiction.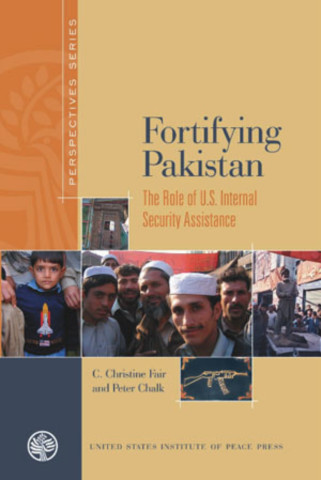 The Role of U.S. Internal Security Assistance
December 2006
Faced with domestic security challenges including sectarian extremism, drug trafficking, illegal commodity smuggling, endemic corruption, and systemic problems with the provision of justice and law enforcement, Pakistan is a critical but vulnerable partner of the United States in the global war on terrorism. While much has been written about U.S. military assistance to Pakistan and the ever-evolving political relations between the two countries, basic questions of highest policy significance related to Pakistan's internal security have never been fully studied or considered.

In this volume, the authors offer a comprehensive examination of Pakistan's internal security environment and the effectiveness of its criminal justice structures and assess the impact and utility of the principal United States initiatives to help Pakistan strengthen its internal security. They raise some difficult questions about present U.S. government assistance to President Musharraf and the army; while instrumental in the short-term Global War on Terror (GWOT), will US assistance seriously impede the long-term prospects for peace and prosperity in Pakistan?

Supported by truly impressive fieldwork, this timely and detailed book offers a blunt but objective study that is sure to be widely read and hotly debated by analysts, intelligence personnel, and policymakers in both the United States and Pakistan.