"Jessica Piombo is an Associate Professor in the Department of National Security Affairs at the Naval Postgraduate School (NPS), where she teaches courses on African politics, U.S. Foreign Policy, comparative politics, and ethnic politics and conflicts. Piombo has been a visiting scholar at the University of the Western Cape, the University of Cape Town, George Mason University's School for Conflict Analysis and Resolution, and Stanford University's Center for African Studies. Her teaching and research specializes on political transitions and post-conflict governance; statebuilding and peacebuilding; mechanisms to manage ethnic conflict; African security; and U.S. foreign policy in sub-Saharan Africa. Piombo joined NPS in 2003 after completing her Ph.D. at the Department of Political Science of Massachusetts Institute of Technology.

Her most recent research project, Peacebuilding through Service Delivery, examines the impact of international assistance on post-conflict statebuilding and peacebuilding. Funded by the Minerva Initiative, information can be found at www.peaceandstatebuilding.net. This multi-year project is in collaboration with in close collaboration with Naazneen Barma (NPS) and Naomi Levy (Santa Clara University), and involves intensive field research and cross-national data gathering.
---
Author's Books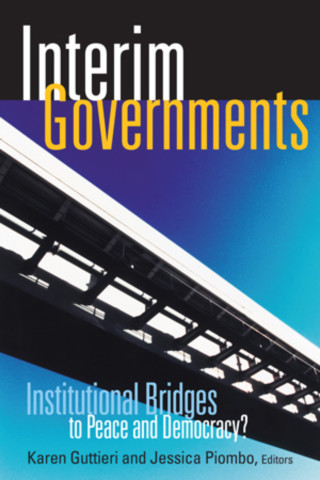 Institutional Bridges to Peace and Democracy?
December 2007
This edited volume by Karen Guttieri and Jessica Piombo explores various aspects of the newly emerging range of interim regimes, focusing on issues of legitimacy, conflict management, and the increasing participation of the international community in transitions from war to peace.