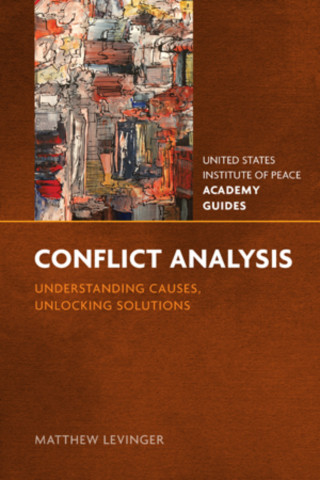 Understanding Causes, Unlocking Solutions
June 2013
The change in the patterns and nature of deadly conflicts since the end of the Cold War has spurred many organizations in and outside governments to develop robust strategies to anticipate, prevent, and respond to these conflicts. Conflict analysis is the critical
first step toward meeting these objectives.

Conflict Analysis: Understanding Causes, Unlocking Solutions is a guide for practitioners seeking to prevent deadly conflict or mitigate political instability. Governments, nongovernmental organizations, and businesses operating in conflict zones will find this volume to be a practical, accessible reference for understanding and communicating persuasively about threats of organized violence. This handbook integrates theory and practice and emphasizes the importance of analyzing the causes of peace as well as the causes of conflict. It stresses that conflict analysis is a social as well as an intellectual process, helping practitioners translate analysis into effective action.

To illustrate key points, Levinger draws on both historical and contemporary cases, including the Cuban missile crisis, the Israeli-Palestinian conflict, the Yugoslav wars of secession, the Rwandan genocide, the 9/11 attacks, and the Iraq and Afghanistan wars. Part I examines contemporary global conflict trends, perspectives on the causes of conflict and peace, and quantitative models for early warning and risk assessment. Part II provides practitioners with a menu of analytical tools for systematically assessing causes and potential trajectories of deadly conflicts. Part III focuses on the role of conflict analysis in decision making and program implementation, including the social dimensions of conflict analysis.

The analytical tools in this volume illuminate emerging trends in complex, volatile, and ambiguous environments and will enable practitioners to anticipate and respond with greater agility to threats and opportunities.
A Macroeconomic Primer for Violence-Afflicted States
September 2012
Creating sound economic policy and a stable macroeconomic framework is essential to societies recovering from violent conflict, yet few practitioners have the background needed to apply economic concepts effectively. To provide practitioners with a concise but broad overview of macroeconomic fundamentals as they touch on violence afflicted states, Brauer and Dunne have created Peace Economics. Filling a gap in the literature on peace design from an economic perspective, Peace Economics extends beyond economic principles into the wider realm of social reconstitution, social contract, and social capital in the hopes of helping practitioners build a more stable peace.

Peace Economics is the first volume of the U.S. Institute of Peace Academy Guides, a series developed by the Institute's Academy for International Conflict Management and Peacebuilding. The Academy is a professional education and training center offering practitioner courses on conflict prevention, management, and resolution. Future volumes will address governance and democratic practices in war-to-peace transitions and engaging in identity-based differences, among other topics. Combining theory and practice and emphasizing strategic thinking, these resources are geared for policymakers; third parties (civic leaders, journalists, or government, military, and NGO personnel) working in conflict zones; as well as for students of conflict management and peacebuilding.