Kemal Kurspahic is a managing editor for The Connection Newspapers. He was the editor-in-chief of the Bosnian daily Oslobodjenje in Sarajevo, Bosnia Herzegovina, 1988-94. Under his leadership the paper published every day from an atomic bomb shelter during the siege of Sarajevo, maintaining high professional standards and Bosnian culture and tradition of ethnic and religious tolerance in the midst of terror.

Kurspahic received numerous awards for his contribution to press freedom and human rights, including the World Press Review's International Editor of the Year and the Bruno Kreisky Award for Human Rights in 1993; the International Press Institute's World Press Freedom Hero in 2000, and the South Eastern Europe Media Organization's Dr. Erhard Busek Award for Better Understanding in the Region in 2003.

He served as a diplomat, first as the Spokesman in Vienna, Austria, 2001-04, and then the Caribbean Regional Representative in Barbados, 2004-06, for the UN Office on Drugs and Crime. As a journalist and a diplomat, he visited 60 countries.

Kurspahic was a Nieman Fellow at Harvard University, 1994-95, and a Senior Fellow at the US Institute of Peace, 1999-2000. He is the author of four books, including As Long As Sarajevo Exists (Pamphleteers Press, 1997), and Prime Time Crime: Balkan Media in War and Peace (US Institute of Peace Press, 2003). This book was also published in Sarajevo, Belgrade and Ljubljana.
---
Author's Books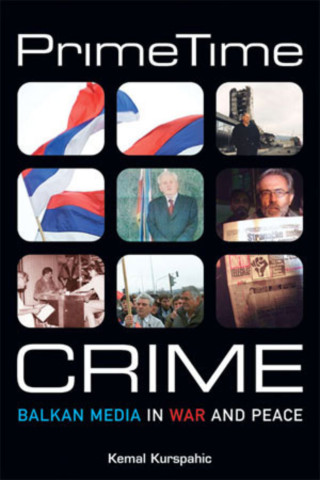 Balkan Media in War and Peace
January 2003
One of the most courageous journalists of our time, Kemal Kurspahic tells a riveting tale of how media malfeasance stirred up the ethnic hatreds that led to the bloody Balkan wars of the 1990s. Drawing on extensive interviews with journalists in the region, the author recounts how—after serving Yugoslavia's communist party for decades—key Balkan media readily shifted loyalties to nationalist ideologues, doing their warmongering for them.

But Prime Time Crime is also the story of independent journalists who risked their livelihoods and their lives in an effort to tell a more balanced story. And it is a disquieting account of how the international community, post-Dayton, undermined the goal of creating a civil society in Bosnia by leaving the nationalists in control of the media.

In a final section, the author offers recommendations for the international community in the Balkans and comprehensive lessons for media intervention in other countries undergoing transitions to democracy.